You may have these concerns about factory…
"How to harmonize factory design and production process"
"How to optimize workflow and improve productivity"
"How to have a safe factory"
"Being concerned about long-term planning"
These are the major issues in construction of factories.
Many companies entering the ASEAN market and build their factories for a variety of reasons which include market development, production cost reduction, restructuring of the supply chain for parts and products, requests from Client and the launch of new businesses.
Plus PM Consultant Sdn Bhd, Construction Project Management Consultant, has reliable staff who are familiar with ASEAN construction situation is capable of providing detailed service and support the companies considering business development in Malaysia, Vietnam, and Indonesia.
Please feel free to contact us if you have any questions about construction projects or our services.

---
Information about our Service
Total support from business start-up to operation
We offer total management services from the project start-up phase to post-completion operations. We also provide best solution based on characteristics of the project at any phase of the Client's project even from the middle of the project.
As an ASEAN construction experts
In order to proceed ASEAN projects smoothly, it is important to consider countermeasures in advance for any unique problems that may arise, using construction technology while understanding the local culture and customs.
Another characteristic of factory construction projects is that there is a wide range of people involved in the project, including not only the facilities department, but also the local manufacturing and production technology departments, the corporate planning and finance departments, and the headquarters management team.
With the purpose to achieve our Client's project goals we provide smooth project management and support as "Construction project expertise who are always stand by the Client" We verify proposals, design drawings, and estimates from designers, construction companies, vendors, and consultants, and implement management (quality, cost, schedule, and delivery) to maximize Client benefits.
Highly accurate Basic Planning
How should we proceed with the project in order to achieve a factory that harmonizes factory design and production process where there is no waste in flow lines?
Our solutions are to understand the current issues, set goals and objectives, and have a highly accurate Basic Plan. By improving the accuracy of the Basic Plan, we can minimize the risk of rework in the subsequent design and construction processes, ensure the functional quality of the factory, and control costs. Foreseeing from the design phase, until construction and operation stage is the quickest way to achieve a plan without any of waste.
Basic Plan Formulation Flow
Output image at the Basic Planning Stage
| Production Flow Diagram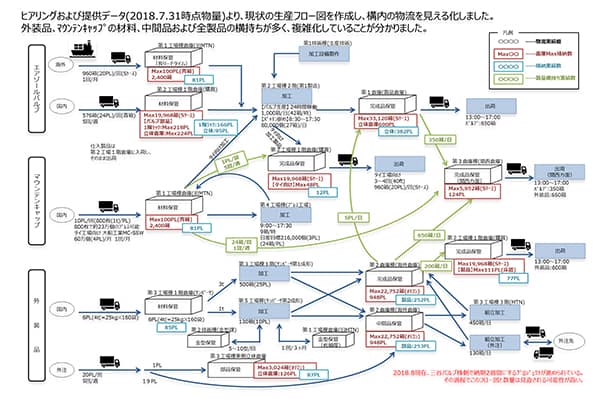 | Layout Plan Comparison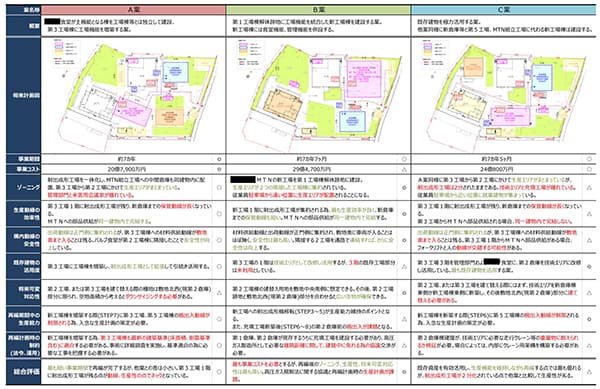 | Project Budget and Construction Cost Estimate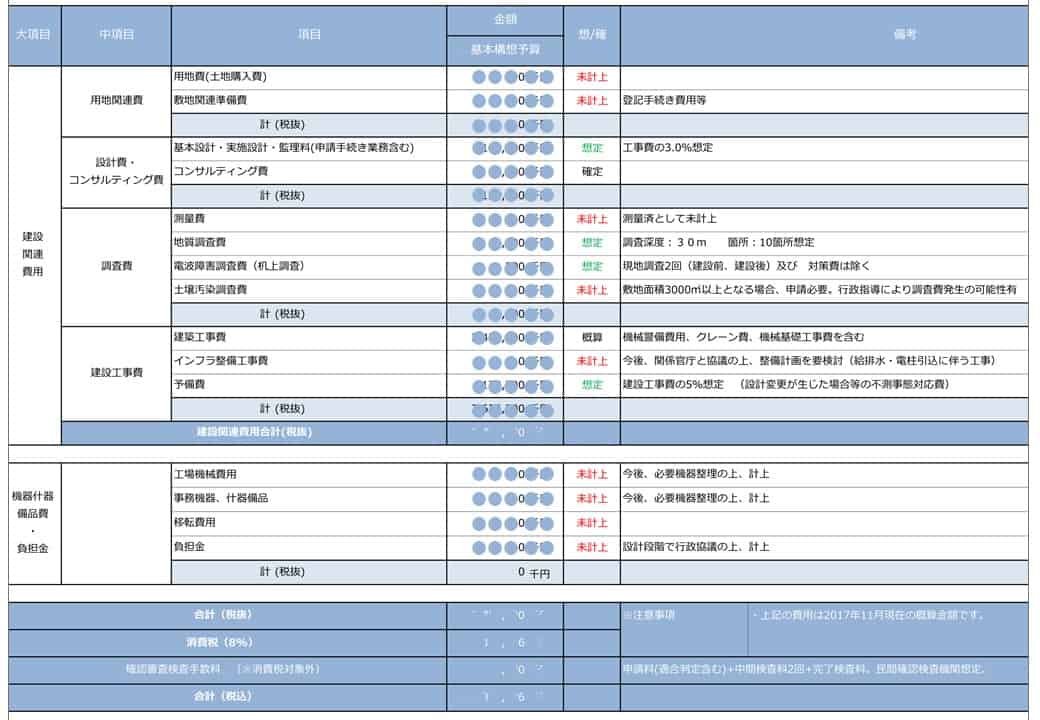 | Overall project schedule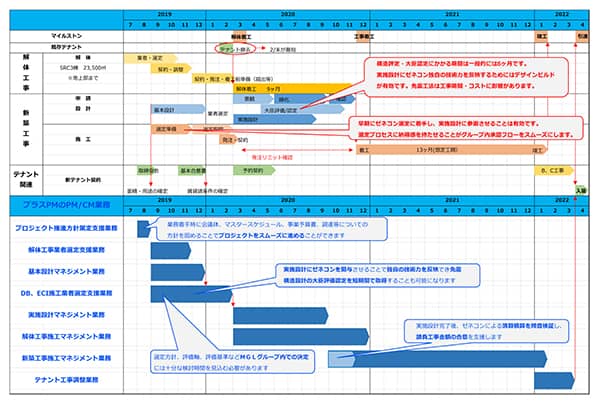 Procurement Strategy Planning and Cost Management
When developing a project policy, it is important to formulate the procurement strategy.
The Tender and procurement phase is very important to control risks, this includes discussing and negotiating contract details with designers and construction companies. In the case of production facilities, determining when to make a final decision on construction companies and machinery vendors is critical in order to make a risk balance in cost and schedule
We provide various procurement methods. These include the conventional separate order system for design and construction, the Design& Build order system for design and construction in which the basic design is ordered to a design company and the implementation design and construction are collectively ordered to a general contractor, and the lump-sum order system for design and construction in which the entire process from basic design to construction is ordered to a general contractor, and engineering.
Each ordering method has its own advantages and disadvantages. The characteristics of each ordering method vary depending on the laws and regulations of each country. We can help you decide on a strategy that optimizes cost, quality, schedule, and risk according to the characteristics of your project.
And,
Cost Management is still one of the most important factors for the success of a project.
We aim to complete projects within the budget by making accurate estimates in the basic planning stage, constantly managing items that affect costs in the design and construction stages, and visualizing cost trends.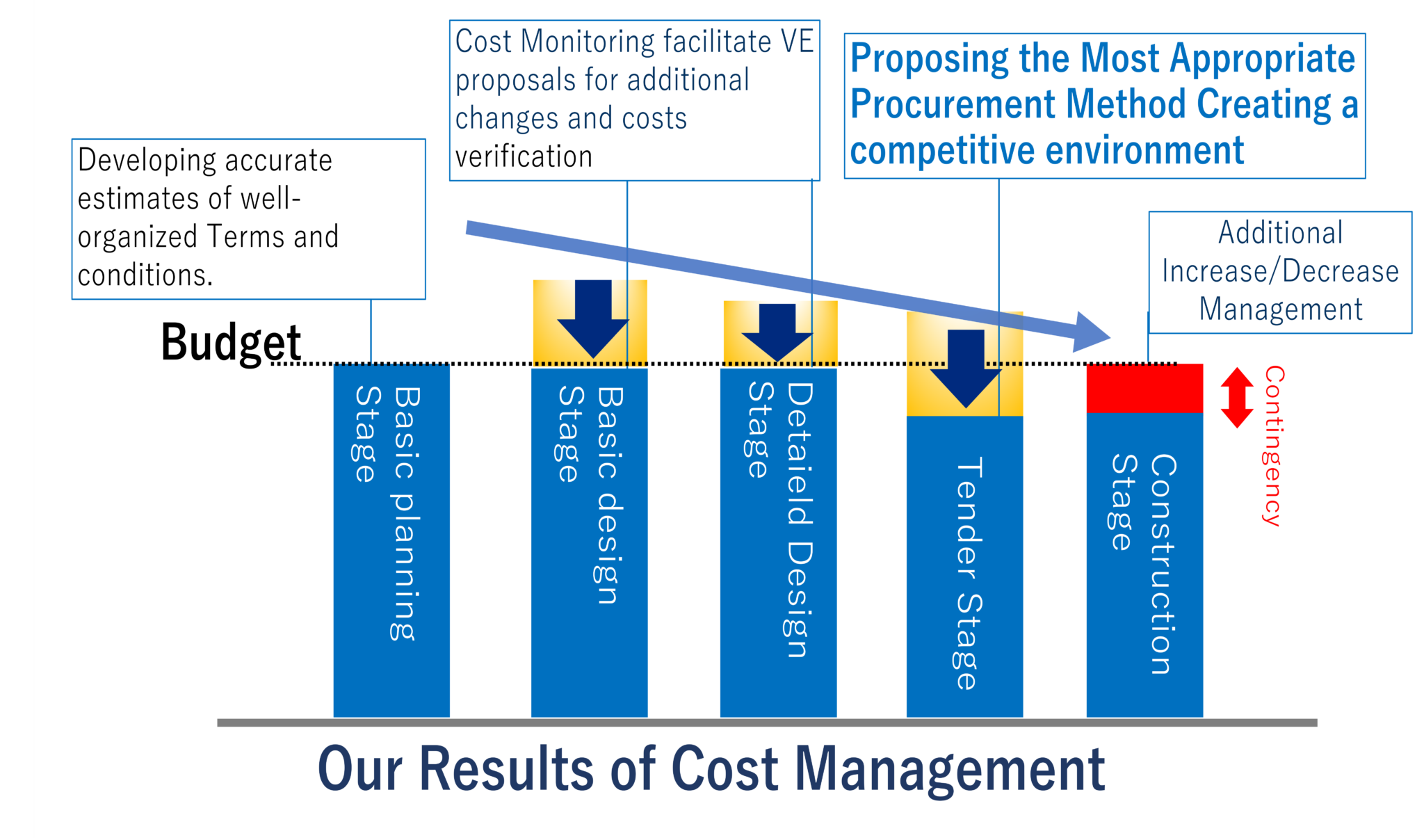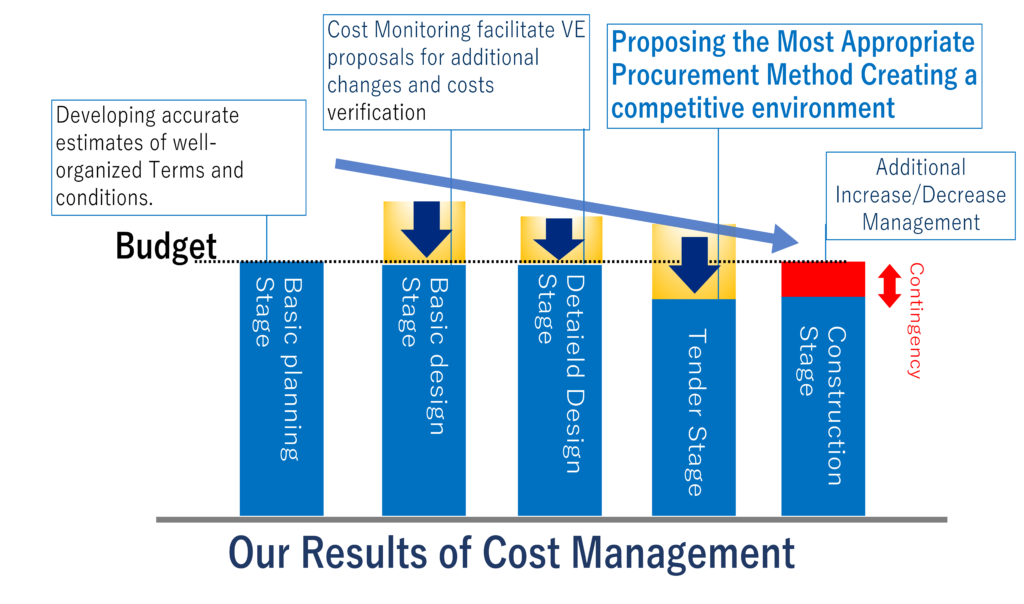 Achievement in Industrial and Factory construction
Industrial and warehouse in Malaysia
Taisei Lamick Factory/Office Project
A factory project of 23,000m² by Malaysia Packaging Industry Berhad, the Malaysia subsidiary of Taisei Lamic Co., Ltd. A high level of both technology and knowledge are required at the scale similar to a plant. Plus PM provides detailed management with a team of mainly mechanical & electrical engineers to realize a precise design and construction by local contractor.
Factory and manufacturing in Malaysia
This is a factory project for automobile steel pipe processing. Due to client's concern of ordering the work to local contractor, Plus PM was requested to implement construction management work. For cost reduction and quality assurance, we introduced NSC contract (cost on order method in Japan) and progress payment that on-site progress evaluation by Plus PM. This has realized the optimization in schedule, cost and quality.
For those who are considering investment in factory construction of factories in Malaysia, Indonesia, and Vietnam,
Please feel free to contact us if you have any questions about construction projects or our services.
In addition to factories, we handle all kinds of construction projects, including logistics warehouses, commercial facilities, condominium construction, and hotels etc. We also provide construction consulting services for overall construction investment and construction investment in general.

---
≫Reference