"I want to know the information regarding Trends of construction industry in Malaysia and economic trends!"
"How much are the construction costs?"
"What kind of general contractors are in the Malaysian sector?"
Perhaps, some of you do have those kinds of questions and concerns?
Catering to project managers in charge of carrying out construction projects, this website summaries information pertaining to Malaysia's basic information and economic scale in 2021, the system and rights adopted in the construction sector, construction costs and the outlook of the construction sector, as well as construction information on general contractors, in the country, among other things.

This article is produced by Plus PM Consultant Sdn. Bhd. who provides project management and construction management expertise in construction projects in Kuala Lumpur, Malaysia. The company also provides assistance for companies looking to enter and expand into the ASEAN market.
Basic Data & Economic Trends
Basic Data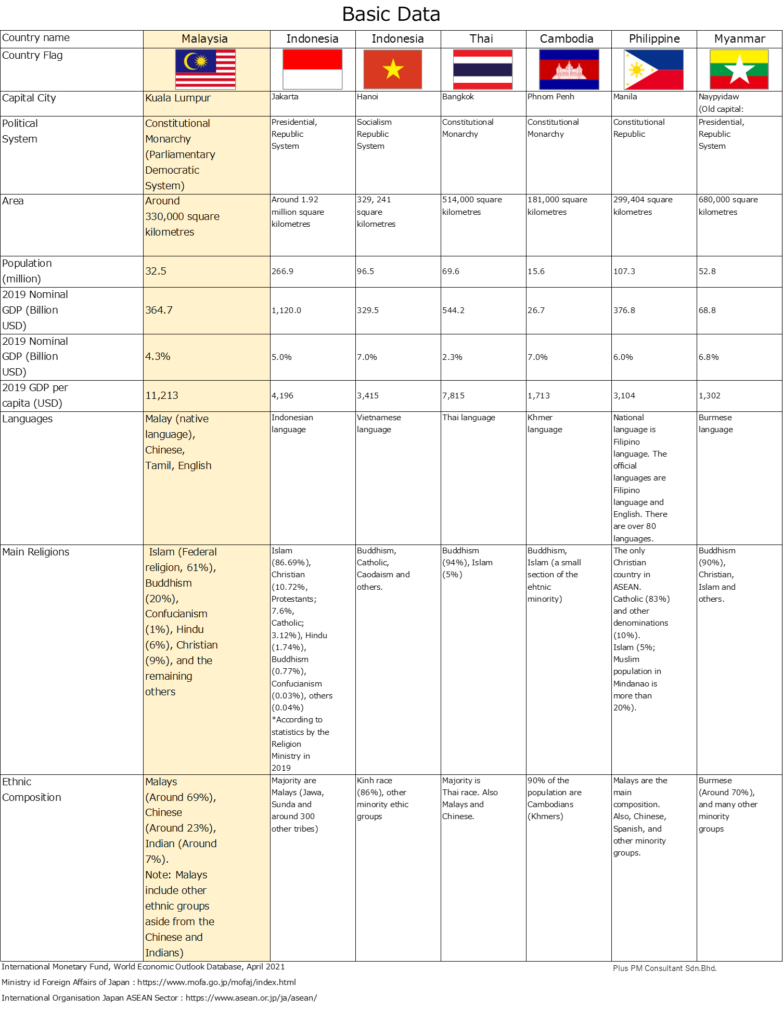 Area: Approximately 330, 000 square kilometres (Around 0.9 times that of Japan)
Population: around 3.2 million people
Capital city: Kuala Lumpur
Races: Malay (Around 69%), Chinese (Around 23%), Indian (Around 7%); Note: Malays include other ethnic groups aside from the Chinese and Indians
Languages: Malay (Native language), Chinese, Tamil, English
Religions: Islam (Federal religion; 61%), Buddhism (20%), Confucianism (1%), Hindu (6%), Christian (9%), and others
Main industries: Manufacturing (electrical appliances), Agriculture & Forestry (natural rubber, palm oil, timbre), Mining (tin, crude oil, liquefied natural gas)
Climate characteristics: regional tropical rainforest, infrequent natural disasters (infrequent earthquakes and typhoons)
Others: Government is always trade-focused, the current political administration is seen as being welcoming of Japan
≫Refer to Ministry of Foreign Affairs Malaysia Basic Data
Economic Trends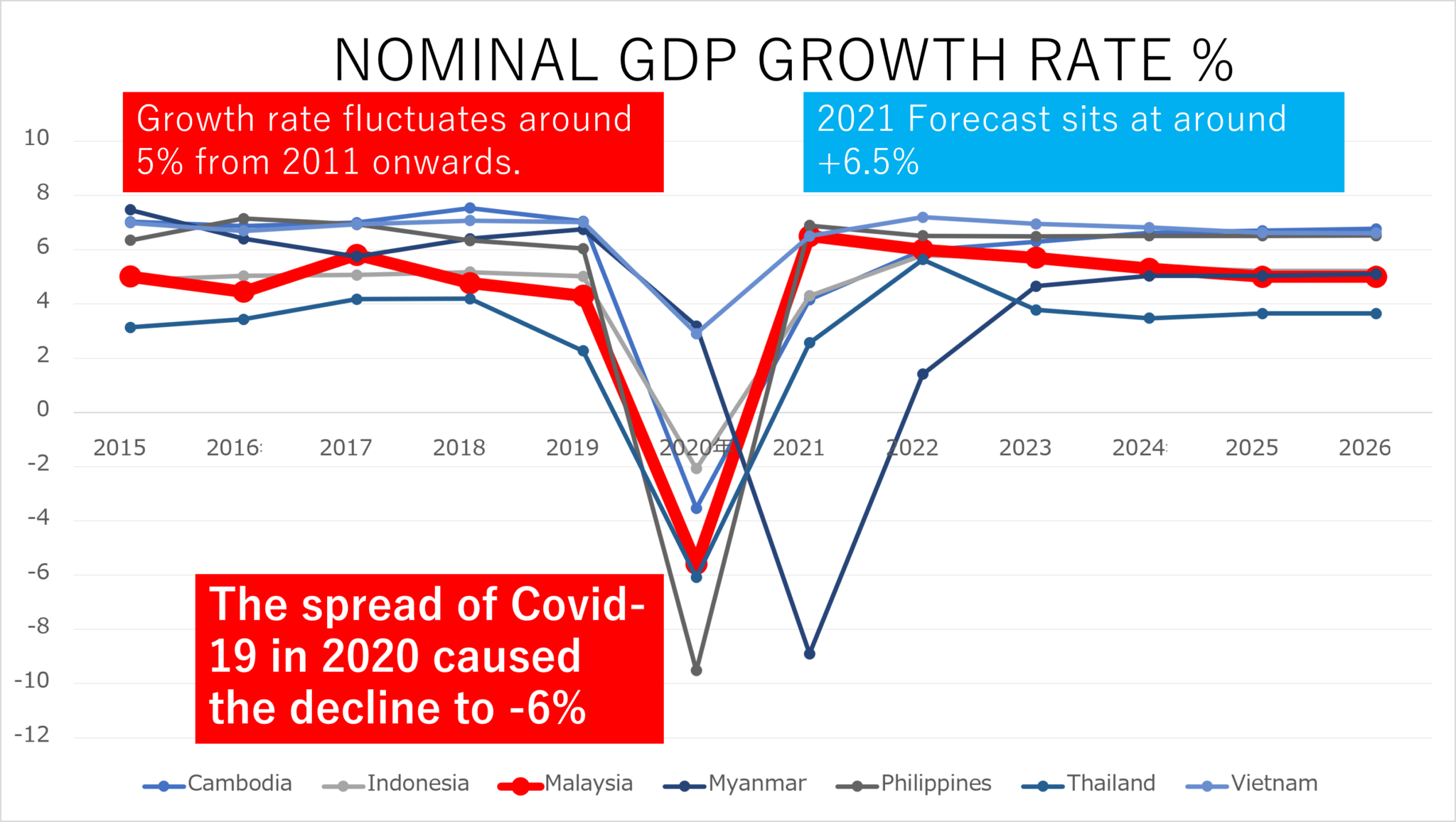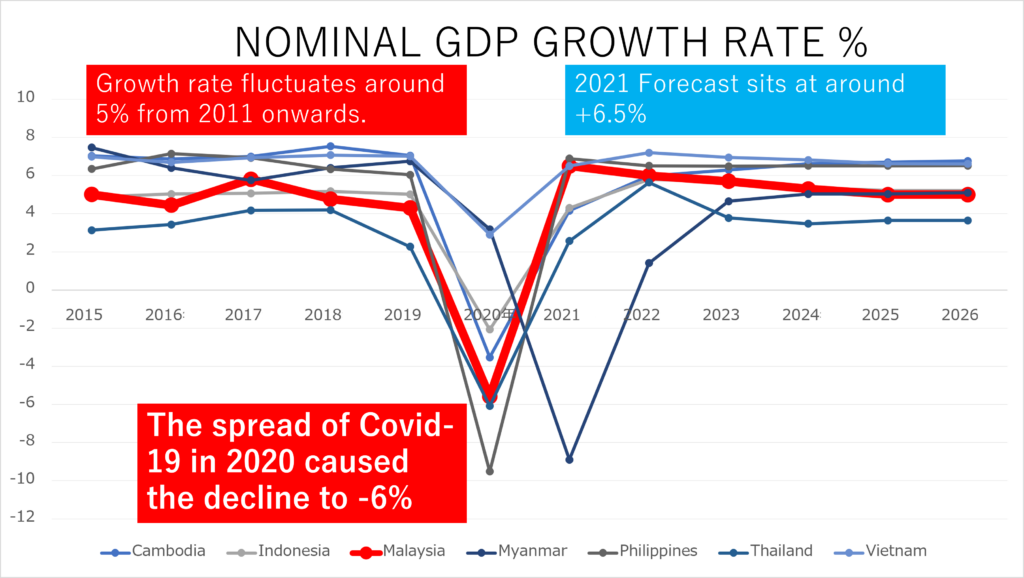 From 2011 onwards, Malaysia's growth rate has been growing at roughly 5%. However, according to the 2020 Revised World Economic Outlook that was announced by the International Monetary Funds (IMF) in on 13 October 2020, the spread of Covid-19 in 2020 has led to the decline of the growth rate of real GDP to 6%. However, based on the 2021 forecast, growth is predicted to recover back to +6.5% rate.
Reference the World Bank
Construction-related Laws
What kind of qualification system is there for engineers and technicians?
There is an architect system in place in Malaysia. Architects in Malaysia bear a heavy social responsibility, much like the top class of architects in Japan, other than submission to the authorities, the architects submit building plan to authorities for approval and issue Certificate of Completion & Compliance (CCC), which is similar to Japan's Notice of Verification of Building Construction. Therefore, it becomes important to carefully choose an Architect Office that is proficient in counselling for the government application, which will lead to a smooth procedure to acquire the CCC.
〔 Important matters pertaining to the qualifications of professional architect 〕
In order to practice as a "Professional Architect", it is crucial for an architect to be registered with the jurisdiction body known as the "Board of Architects Malaysia". Holders of architecture degrees, including doctoral qualifications that are approved by the Board of Architects Malaysia will be registered with the body if that architect is a member of the Malaysian Institute of Architects. However, if one does not possess the degree and doctoral qualifications, or if they are not approved by the Board of Architects Malaysia, they will be required to sit for and pass the exam administered by the Architectural Examination Council of Malaysia. Furthermore, a Professional Architect is only limited to Malaysians and permanent residents.
Architectural Standards: What are they?
〔Architecture Law〕
Based on the "Laws of Malaysia Uniform Building By-laws", which are determined by each state government, each individual approval process is managed by each state government. This requires the regulations of each state to be thoroughly surveyed.
〔Architecture Standard Regulations〕
The Malaysian Standard and the British Standards are general in nature.
Construction Cost Information

It is summarized with reference to construction cost information in Kuala Lumpur, Malaysia. The costs of apartments, offices, commercial facilities, hotels, factories, production facilities, and distribution warehouses are listed in terms of unit price per square meter.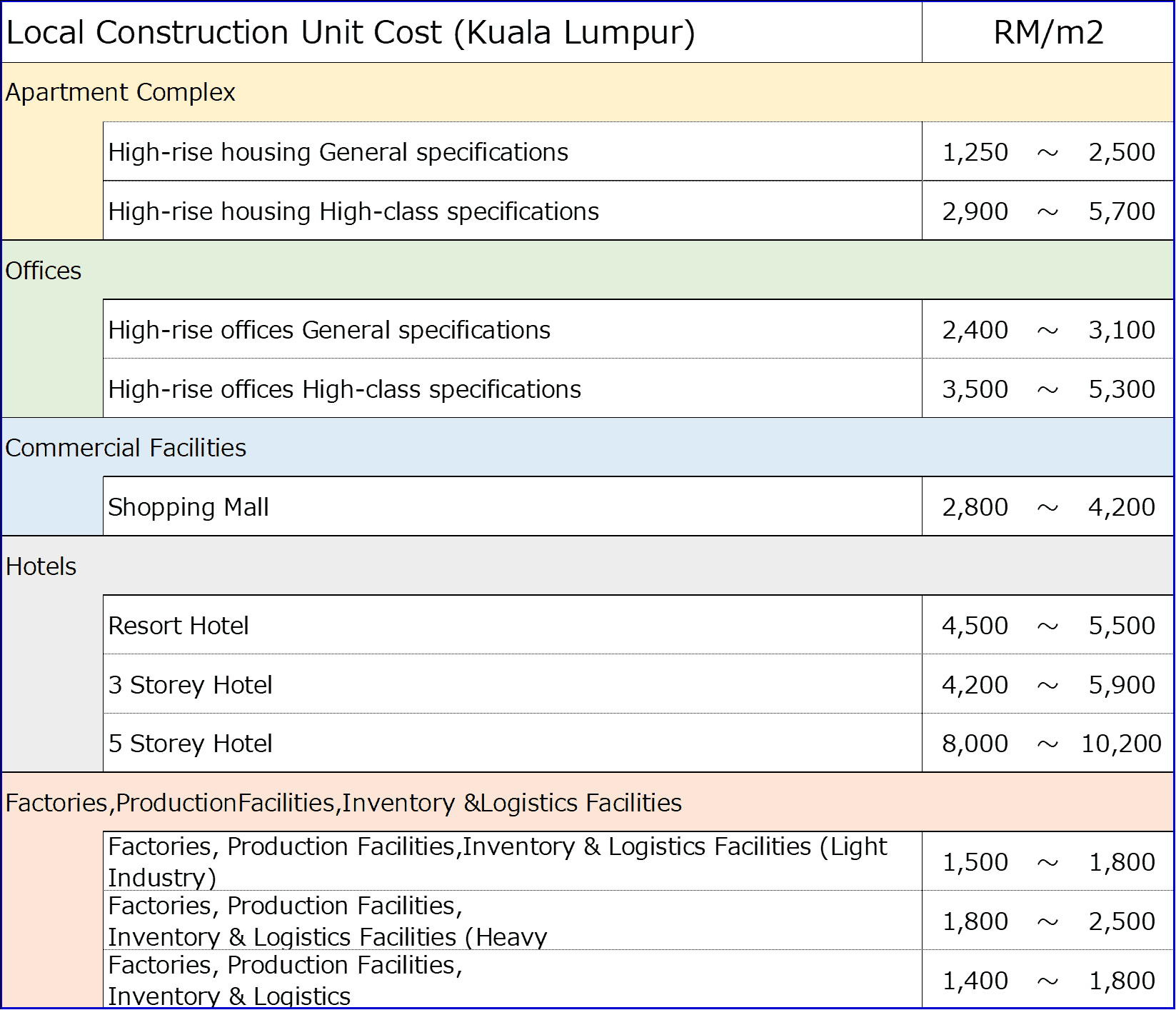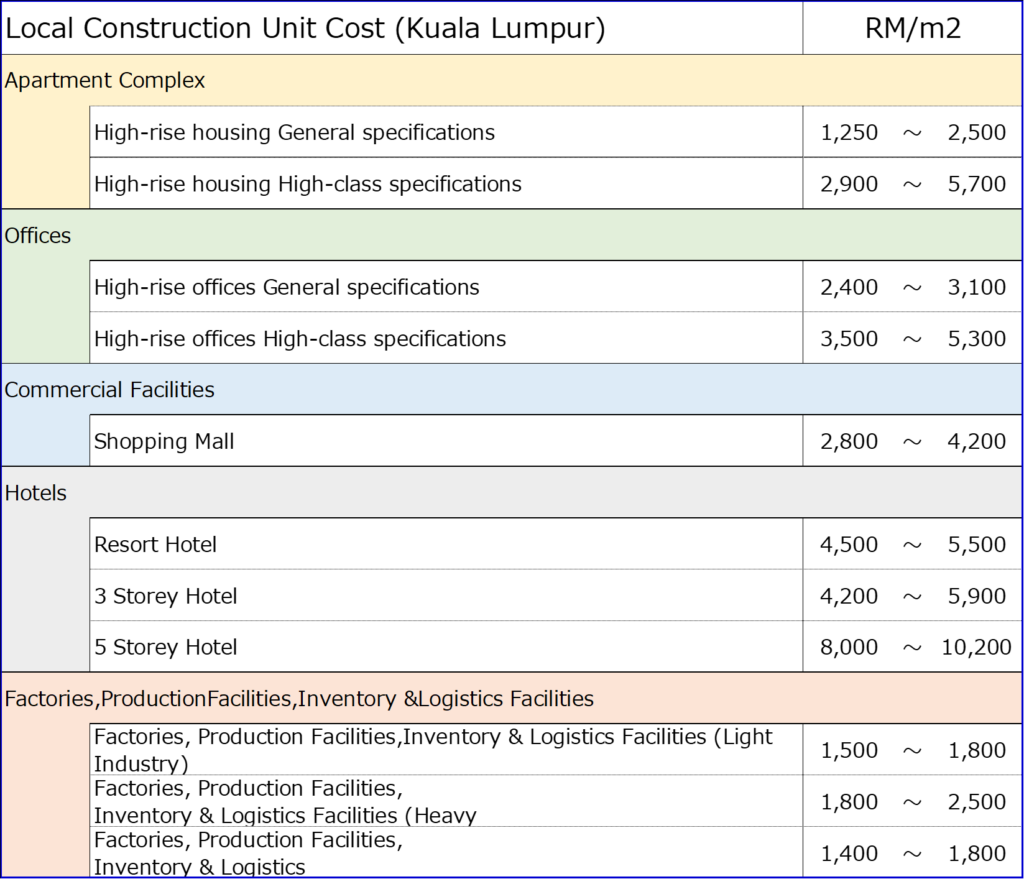 For the table above, utensil equipment, specialised equipment, cost of government permits and external structures are not inclusive.
Construction Sector's Outlook
What is Malaysia's level of construction technology? What are the characteristics?
The construction industry is relatively lagging behind in terms of "quality improvement" compared to the other industries. Most construction companies have obtained the ISO verification, while also being equipped with quality control system. However, the performance of the management system and audit implementation is still lagging behind developed countries.
〔 Common Issues Concerning Design and Construction Quality in Malaysia 〕
The lacking integrity of architectural, structural and mechanical & electrical drawings has led to many on-site
revisions.
Due to the weak design ability against waterproofing, roof leakage and water leakage often occurs
Most on-site construction operators are migrant workers who are lacking in skills and proficiency.
Due to the shortage of communication between construction companies and subcontractors and suppliers, it is strikingly common for reworking operations to occur.
Due to the above-mentioned reasons, construction consultant plays a vital role in adjusting and consolidating the overall project.
〔The Political Trends in Malaysia〕
Under the Construction Industry Transformation Programme (CITP) 2016-2020, the Construction Industry Development Body (CIDB) introduced several measurements regarding the quality, safety and professional awareness in construction. Presently, the QLASSIC score improved to 72% as reported under the 2014-2020 CITP, which shows progress towards improvement.
〔Others〕
In addition, under Malaysia's energy-saving standard that is the Green Building Index (GBI), there has been an increase in projects approved by the international assessment LEED and GreenRE.
Main Construction Company in Malaysia
Main Contractor List in Malaysia, and Japanese General Contractor & Sub-contractor Companies, others.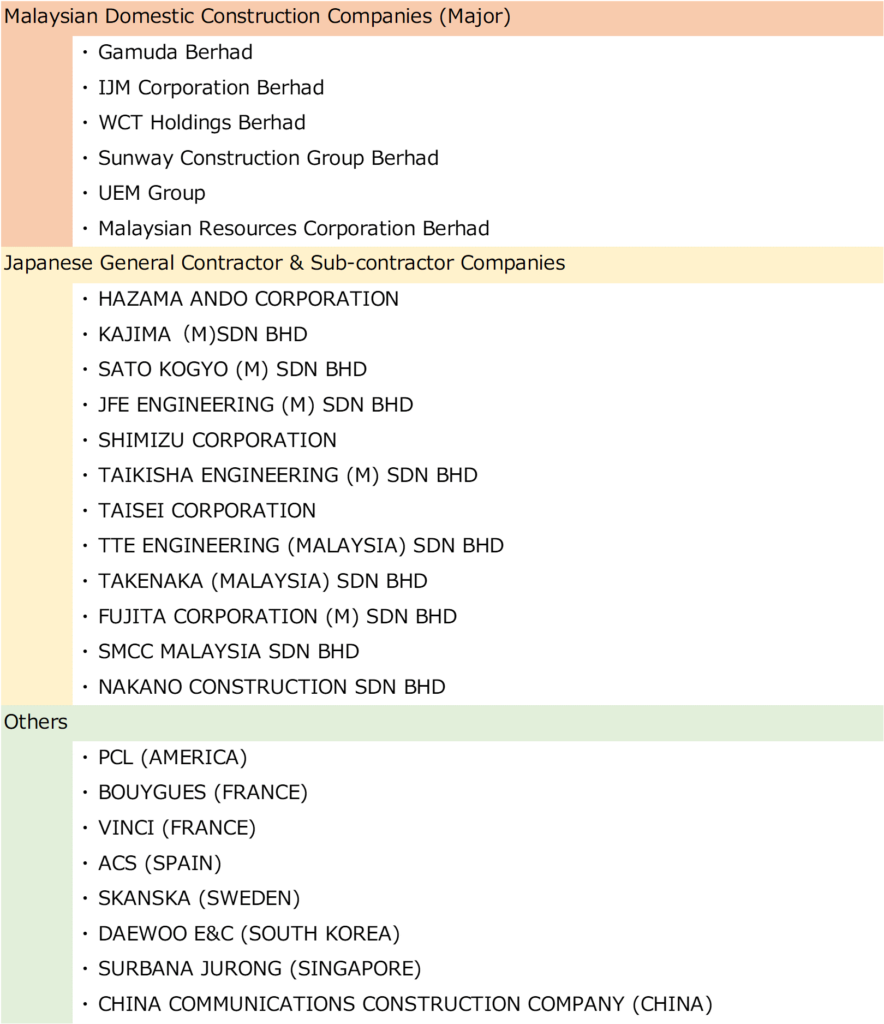 Conclusion & Summary
According to the 2020 Revised World Economic Outlook announced by the International Monetary Fund (IMF) in on 13 October 2020, the spread of Covid-19 has caused the growth rate of real GDP to drop to 6%. 2021 forecast predicts that growth will recover to +7.8%.
The Malaysian government is always export-focused, and the new administration is said to be welcoming of Japan.
With the prevalence of many issues such as construction technology, design and construction quality, it is crucial to perform the appropriate management approach.
For those who are considering to invest into Malaysia's construction market, we at Plus PM Consultant Sdn. Bhd., are more than happy to utilise our construction management approach in offering our project management services to those interested.
We handle factory construction, condominium construction, hotels, among many others.
In addition to construction, do also consult with us regarding construction consulting affairs across all construction investments.
---
This article is produced by Plus PM Consultant Sdn. Bhd based on Malaysia's local information obtained through news coverage, as well as the links and references stated below.
We go to great length to ensure that the informational contents on this website and article are as accurate as possible. However, the accuracy of the contents of the article is not always guaranteed. Unauthorized reproduction of these contents is not allowed
≫Citation, references, bibliography