You may have these concerns…
"How to improve logistics warehouse operations and productivity"
"Not having knowledge about local regulations and application procedures"
"Want to build a warehouse quickly, affordably and on schedule"
Perhaps, do any of the above apply to you?
International logistics in ASEAN are not only increasing in volume but are intensifying in terms of the trend to integrate, strengthen, and reorganize logistics business infrastructure because of changes in the external environment including the expansion of the e-commerce market, the spread of IoT, AI, and material handling automation, and the restructuring of supply chains.
Plus PM Consultant Sdn. Bhd. is a Construction Project Management Company with local and Japanese staffs who are well versed in the ASEAN construction market and excel in providing reliable and detailed services to support companies that are considering the relocation of their warehouses and logistics centers to Malaysia, Vietnam, and Indonesia.
We also provide the latest information on IoT, AI, and material handling automation projects.
Feel free to contact us if you have any questions about our logistics warehouse projects or any of our services.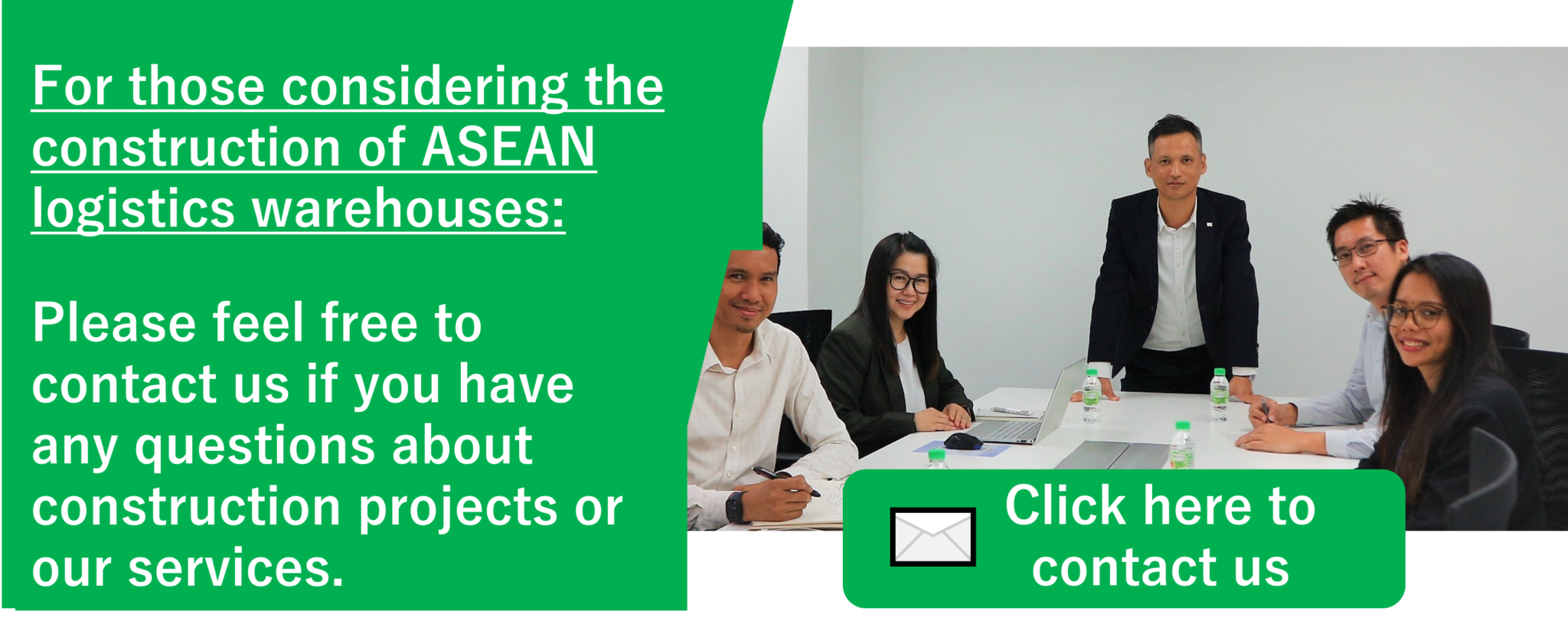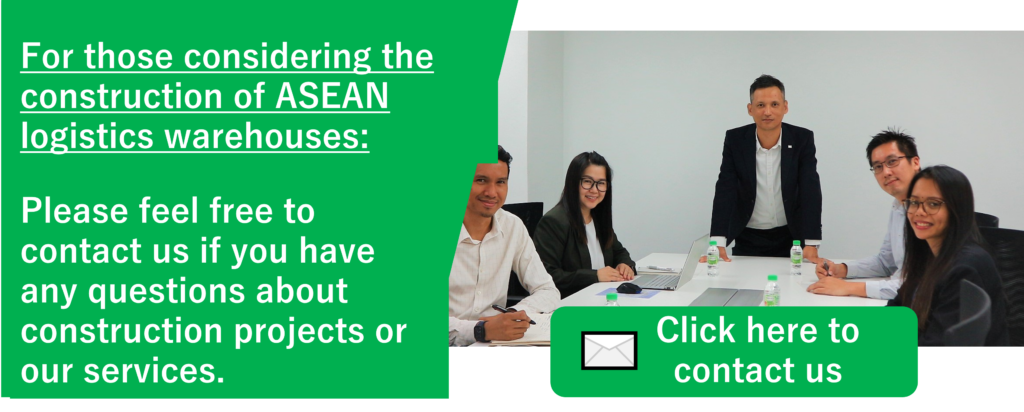 ---
Information about our Service
Total support from startup to warehouse operation
We offer total management services from the startup phase to the operation of the logistics warehouse.
Based on the characteristics of a project, we also provide appropriate solutions to the client in the middle of the project.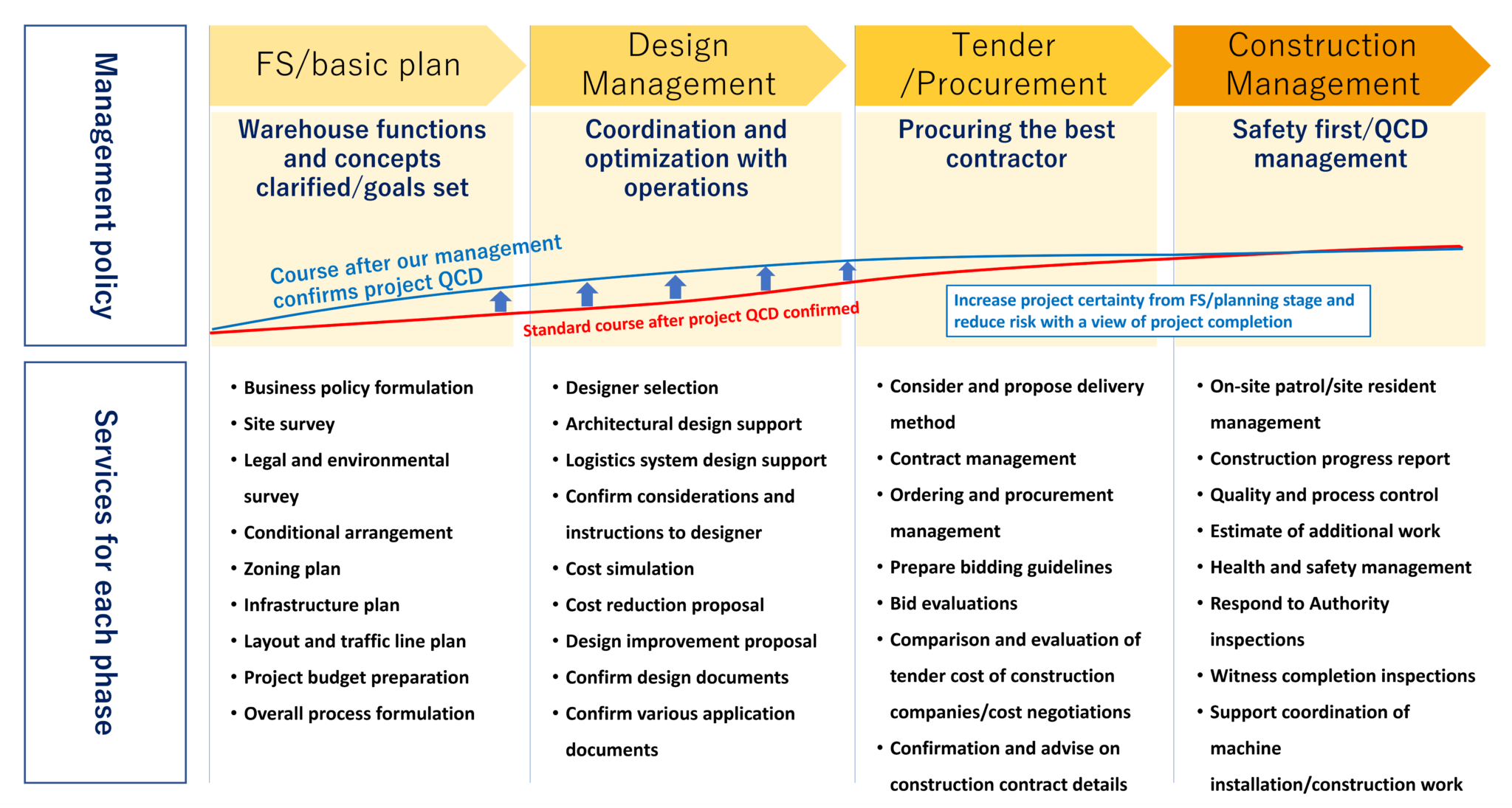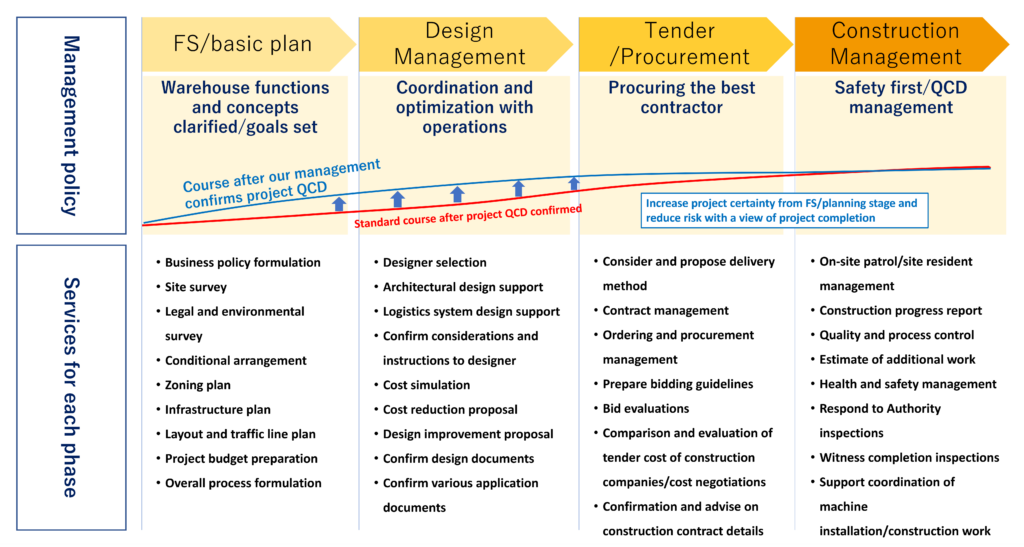 ▲Click to zoom
Support from the Owner-side or the Tenant-side
Understanding laws and legal regulations, local culture, and customs, as well as considering measures against unique problems that may occur are all crucial in ensuring the smooth execution of overseas logistics warehouse construction projects.
Regardless of whether the client is a building owner or tenant, we provide support as construction project specialists that stand by the client.
Specifically, we formulate the basic plan and maximize the clients' business profits by verifying proposals, design drawings, and quotes from designers, construction companies, various vendors, and consultants while conducting (quality, cost, schedule, and delivery) management.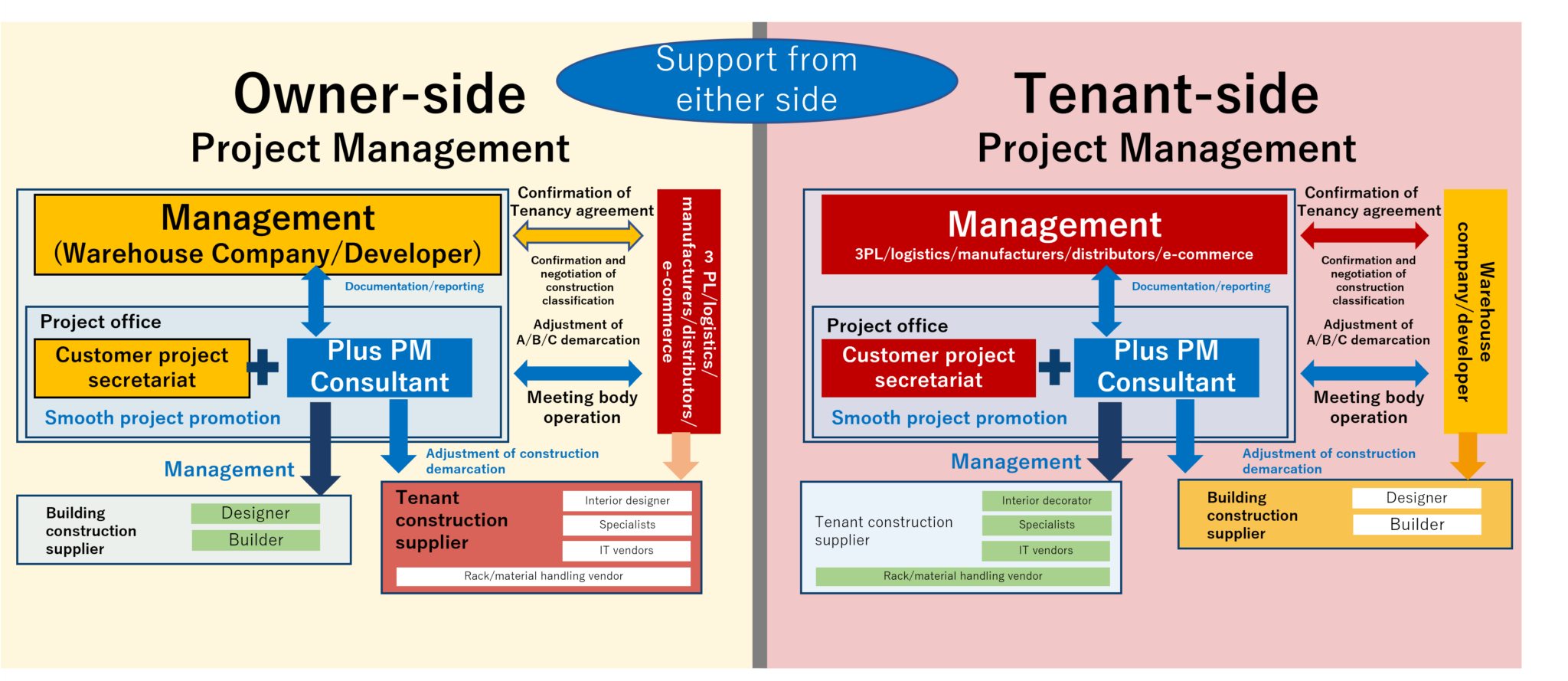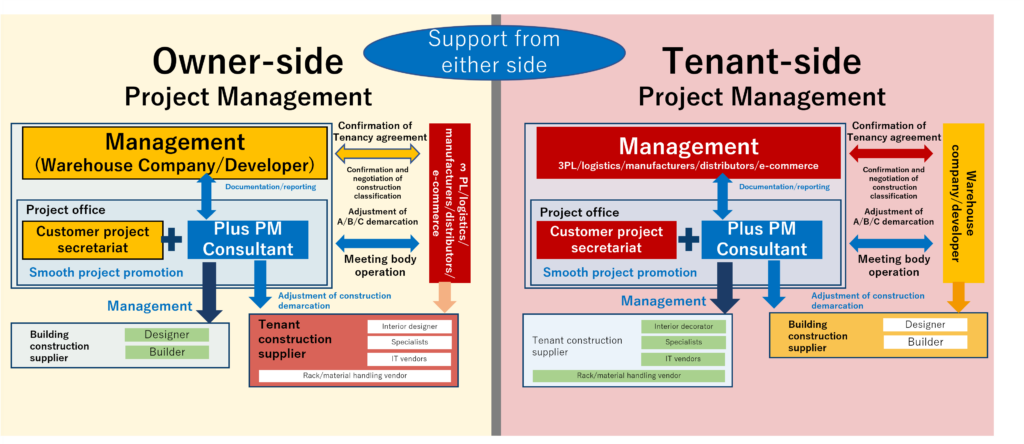 ▲Click to zoom
Formulating Basic Planning to improve productivity
We believe that understanding current challenges, setting goals and objectives, and having highly precise Basic Planning is crucial.
Improving the precision of the Basic Planning that covers the design, construction, and operation eliminates the risk of reworking cost increases during the subsequent design, minimizes construction processes, ensuring optimal warehouse functions and capacity.
This results in efficient warehouse operations through the elimination of unreasonableness, waste, and unevenness.
When constructing bonded warehouses, there may be requirements for planning the installation of boundary fences and guard houses, which require consideration from the basic planning stage.
Basic Planning formulation flow


▲Click to zoom
Output image of the Basic Planning stage
|Block layout verification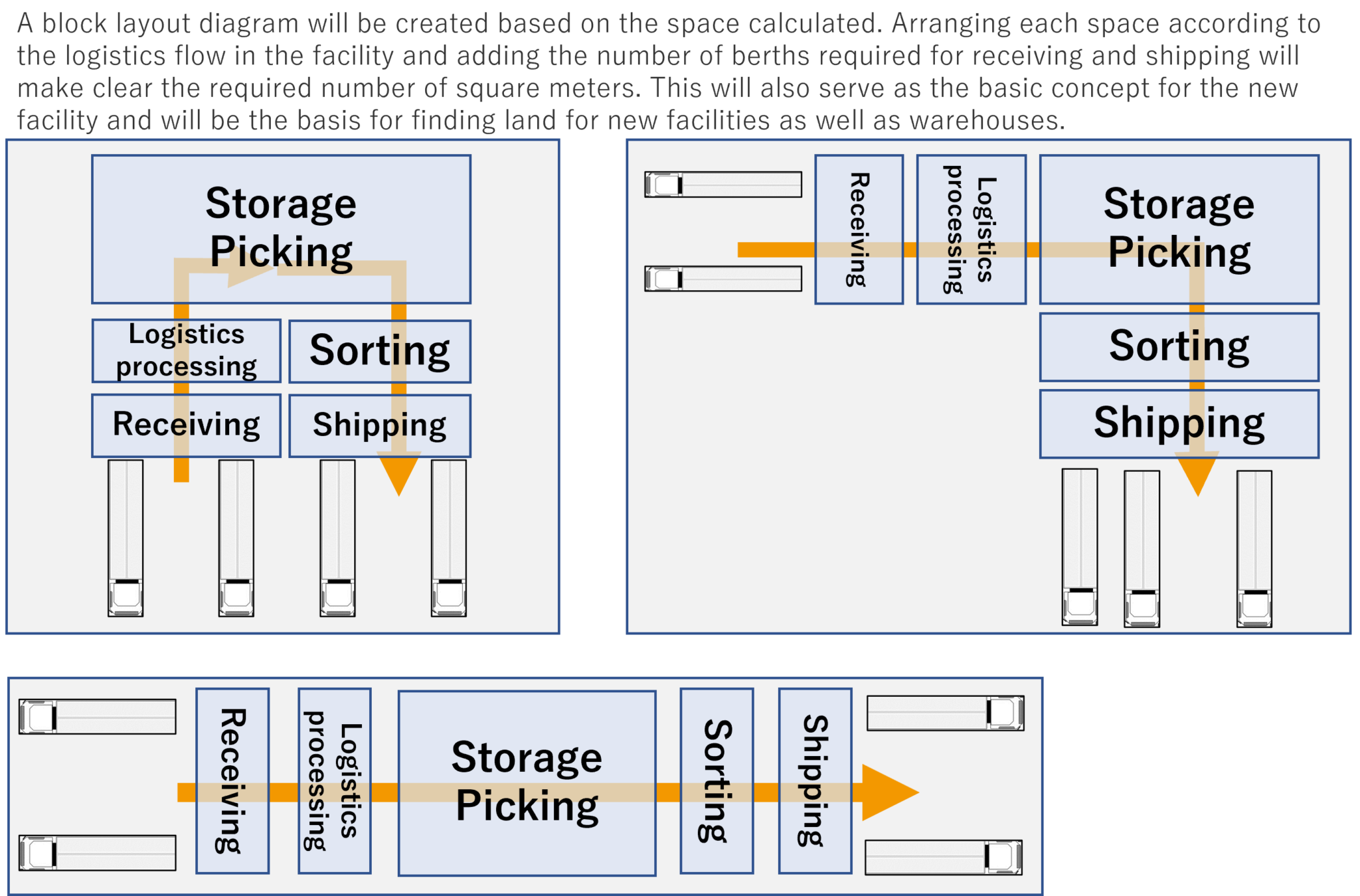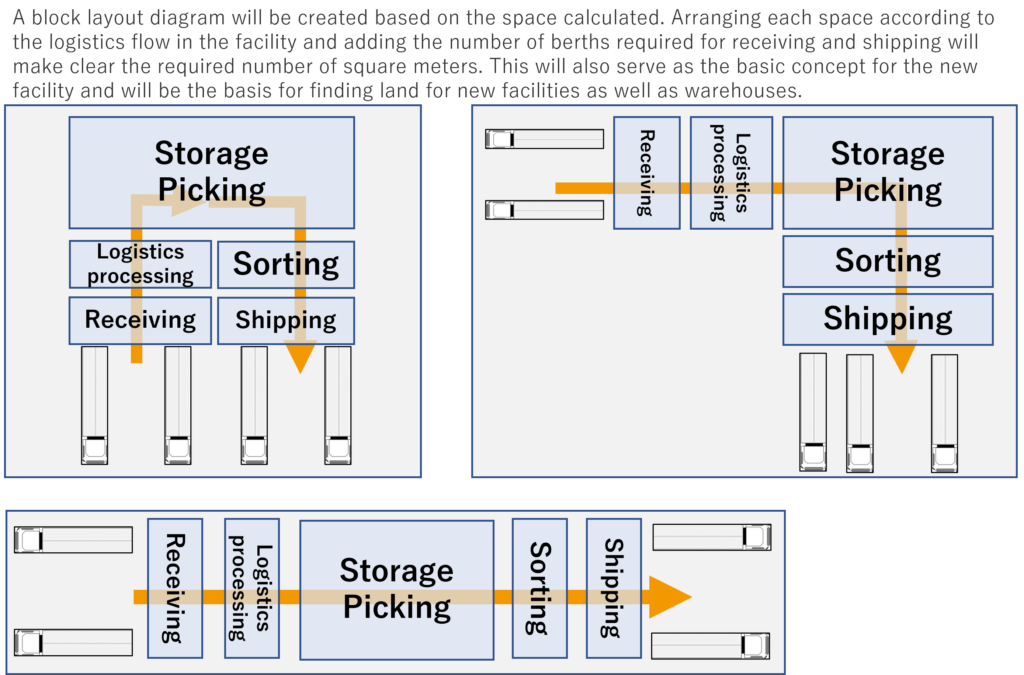 | Layout Plan Comparison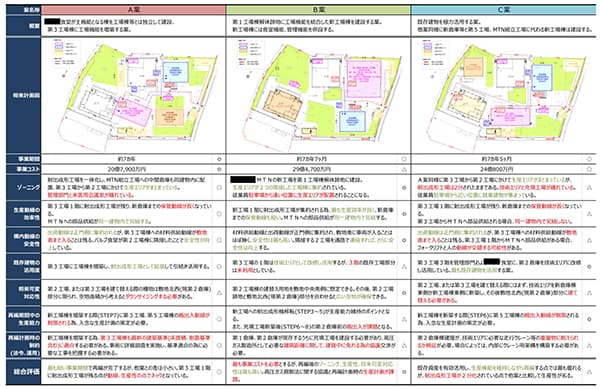 | Project Budget and Construction Cost Estimates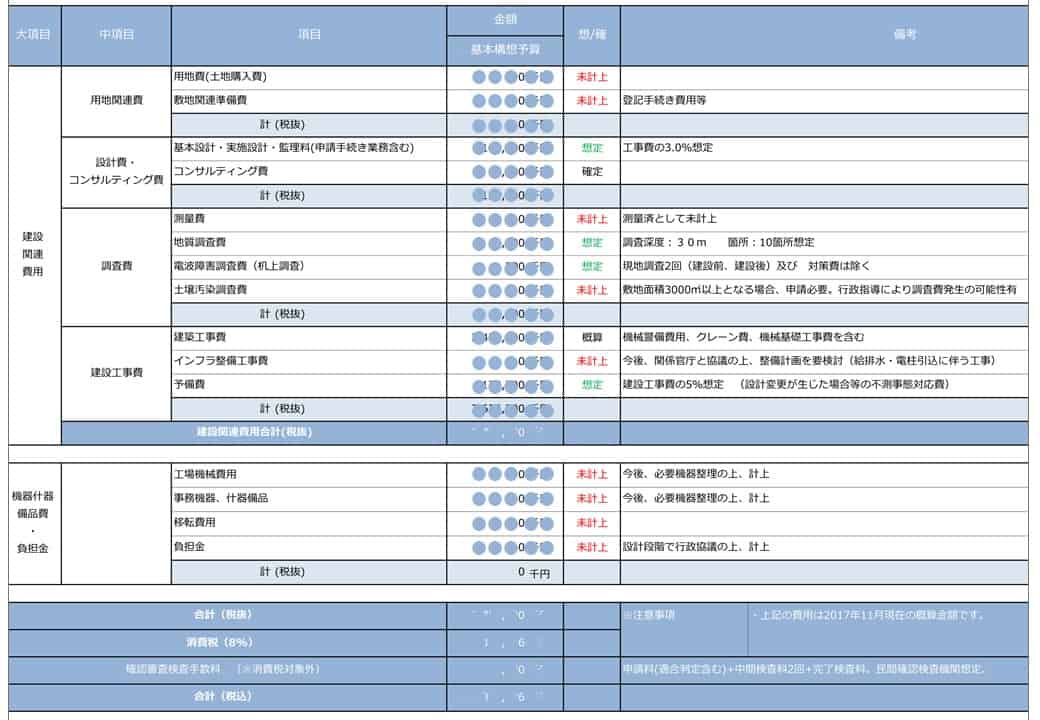 |Overall project schedule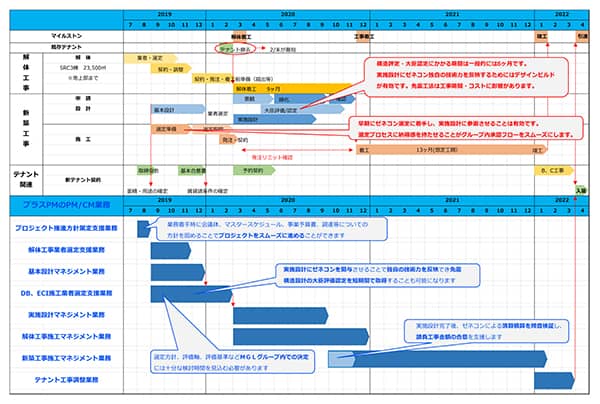 Procurement Strategy Planning and Cost Management
One of the factors of making overseas logistics warehouse construction projects succeed is Planning and Procurement Strategy.
The tender and procurement phase is a critical phase in controlling risks that includes discussing and negotiating contract details with architects/consultant and construction companies. There are plenty of constraints when considering the introduction of material handling systems, so determining when to make a final decision on construction companies, material handling vendors, and IoT vendors is critical in order to make a risk balance in cost and schedule.
We provide various Tender and procurement methods. These include the conventional separate order system for design and construction, the lump-sum order system for design and construction in which the basic design is ordered to a design company and the implementation design and construction are collectively ordered to a general contractor, and the lump-sum order system for design and construction in which the entire process from basic design to construction is ordered to a general contractor, and engineering.
Each ordering method has its own advantages and disadvantages. The characteristics of each ordering method vary depending on the laws and regulations of each country. We can help you decide on a strategy that optimizes cost, quality, schedule, and risk according to the characteristics of your project.
And,
One of the most important factors in making a project succeed is cost management.
We strive to complete projects within the budget by making precise estimates in the basic planning stage, constantly managing items that affect costs in the design and construction stages, and visualizing cost trends.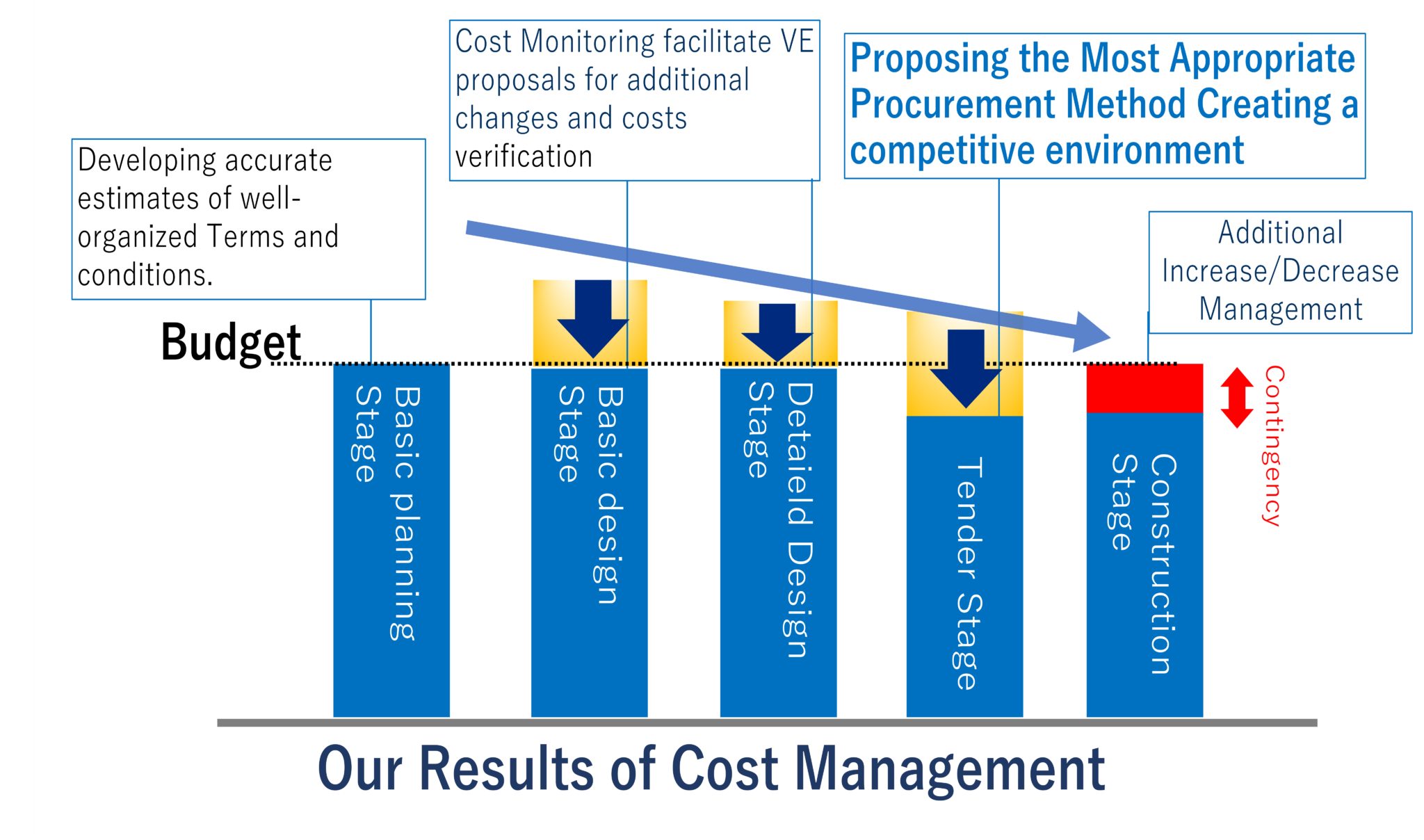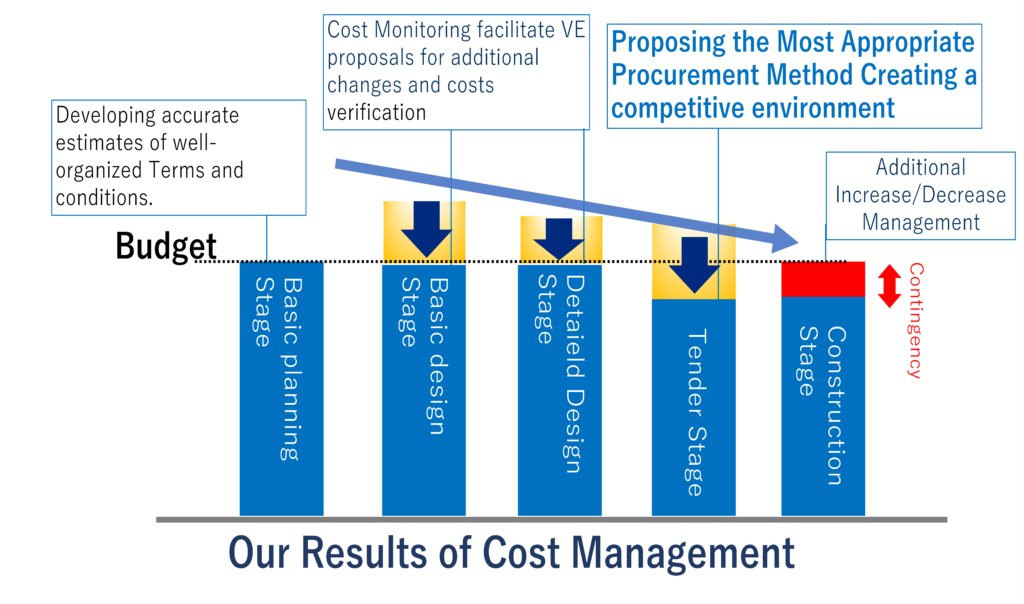 ▲Click to zoom
Achievement of logistics warehouses project
Bonded warehouse in Malaysia
Nippon Konpo (Malaysia) New Bonded warehouse Project
This project is the first building of Nippon Konpo (Malaysia) Sdn Bhd in Malaysia to own a new logistics warehouse to expand their own business in the Asian economic area.
Plus PM Consultant provided a total management from land purchase support to business license acquisition support. In order to realize the requirements from Nippon Konpo (Malaysia), we have persistently discussed and achieved the strict requirements of administrative agencies, fire departments, and electric power companies. This project received "CM Award 2020" from the Japan Construction Management Association.
Build To Suit (BTS) Warehouse in Malaysia
Bandar Bukit Raja – Senheng Project
Bandar Bukit Raja Industrial Gateway is a joint development between Mitsui & Co., Mitsubishi Estate and Sime Darby Property, a Malaysian leading property development company to develop a Build To Suit (BTS) supply chain hub in Selangor, Malaysia.
Plus PM Consultant Sdn. Bhd. participated from the middle of the tender stage of Bandar Bukit Raja-Senheng project. At the construction stage, we provided support for safety and health, quality, on-site inspection, process control, and preparation of materials for internal reporting.
Tenant side project in Malasia
Kintetsu World Express (Malaysia) New Warehouse Moving Project
Kintetsu World Express (Malaysia) Sdn. Bhd., a local subsidiary of Kintetsu World Express, Inc., has started full-scale operation of a new warehouse in the FCZ (Free Commercial Zone) area in Penang Airport, Malaysia.
Plus PM Consultant Sdn. Bhd. participated from the design and contractor selection stage and supported and promoted the renovation work of the new warehouse office, relocation from the old warehouse, and renovation work in the new warehouse.
For those who are considering investing in the construction of Warehouses in Indonesia and Vietnam,
Please feel free to contact us if you have any questions about construction projects or our services.
In addition to factories, we handle all kinds of construction projects, including logistics warehouses, commercial facilities, condominiums, and hotels etc. We also provide construction consulting services for overall construction investment and construction investment in general.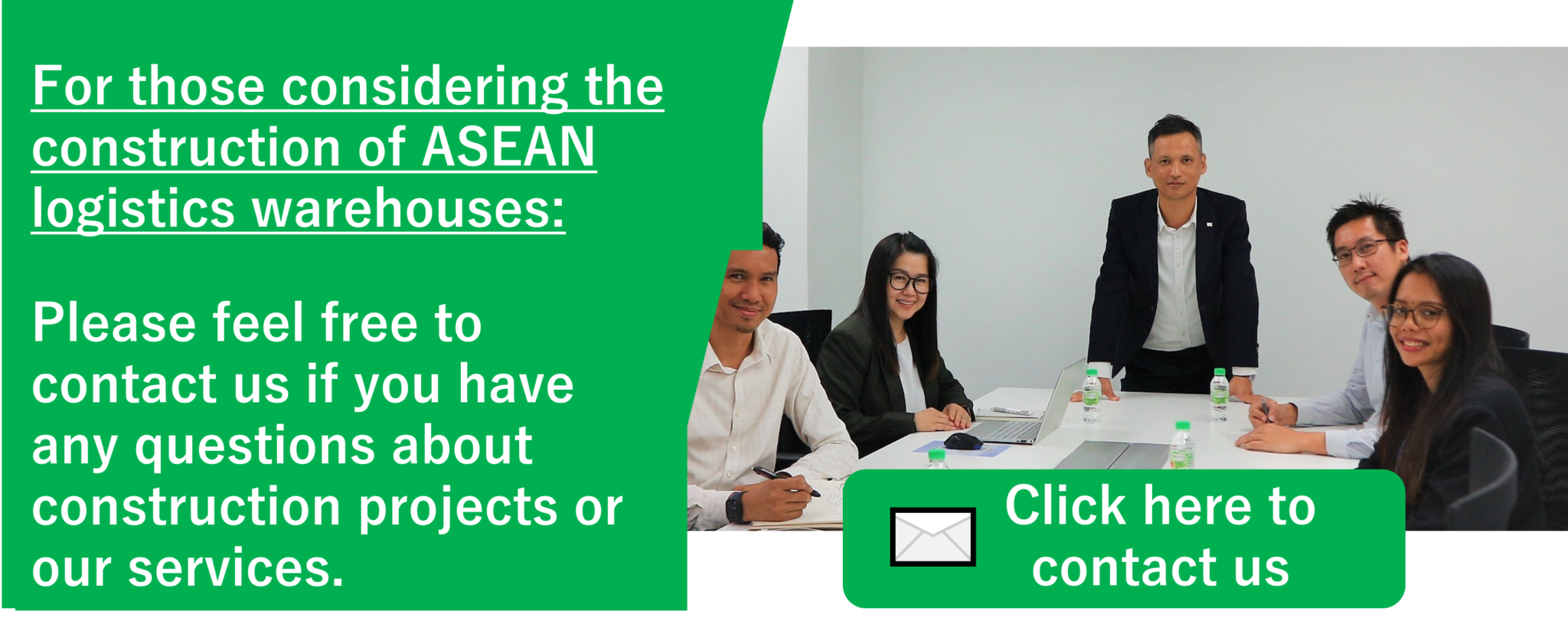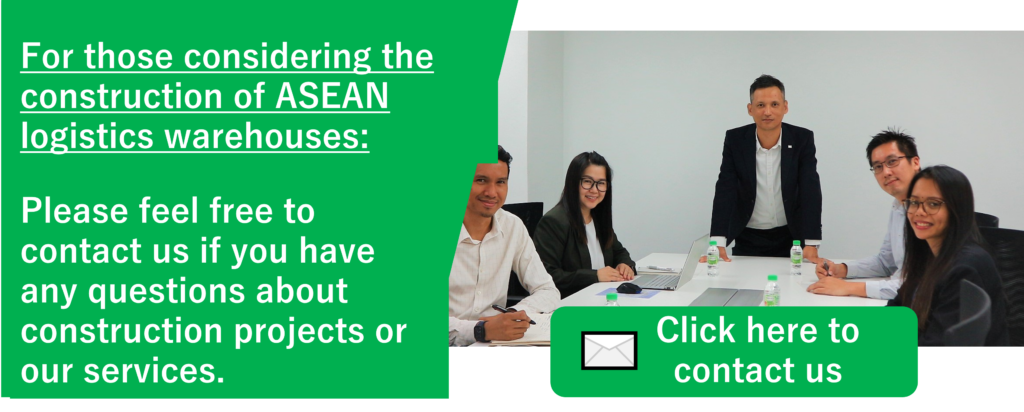 ---
≫Reference