"I don't understand the overall flow of the Authority procedure for construction."
Perhaps, some of you do have those kinds of questions and concerns?
Permitting process is an inevitable task every Foreign Investor need to go through in order to set-up and run their business in any country. Indonesia is no different from other countries in any part of the World, where it has its own permitting process to start construction or operation.
This article is produced by Plus PM Consultant Sdn. Bhd. who provides project management and construction management expertise in construction projects in Indonesia. The company also provides assistance for companies looking to enter and expand into the ASEAN market.
Overview of permits and licenses for construction projects
Prior to commencement of any construction, IMB (Izin Mendirikan Bangunan) or building permit need to be obtained and prior to the start of use or operation of any building, SLF (Sertifikat Layak Fungsi) or certificate of occupancy/ certificate of worthiness must be obtained.
Generally permitting procedure can be divided into those for industrial park and outside of industrial park. Permitting process is different depending on municipality, where in this blog procedure for DKI Jakarta (most of foreign investment is concentrated) will be briefly described.
There are few separate submissions to separate authority department prior to obtaining the IMB and SLF. The process and duration can be quite complicated and usually Owner will appoint Permitting Consultant to coordinate and liaise with authorities for submission and approval.
Authority Submission in Indonesia
Permitting process in DKI Jakarta involves various Designer and Authorities.
Among some of the process need to go through prior to obtaining IMB includes SIPPT (Land use allocation), RTLB (Block Plan), KRK (Planning), TABG-AP (Architectural), TABG-SG (Lower and Upper structure), TABG-ME (Mechanical & Electrical) and IMB Foundation before obtaining the IMB Definitive.
On top of the above and depending on size of the project, other permit that might need to be obtain include AMDAL (Environmental Impact Study), ANDALALIN (Traffic Impact Assessment), Peil Banjir (Flood Level), IMP (Infrastructure Permit), Dewatering Permit (with basement), KKOP (Height restriction) and IPAL (Waste Water Treatment Plant).
Differences between industrial parks and non-industrial parks
Most of foreign investor setting up factories or warehouses would choose well established industrial park.
Industrial parks as compared to individual land offers complete and well maintained infrastructure such as road and drain, security and availability/ established power and water supply.
Permitting process is also less complicated and in certain industrial parks construction can commence with just the Principle licenses before obtaining Construction Permit by utilizing KLIK or fast-track construction facility. Furthermore, the Investor can also save time for the application of utilities such as power and water.
Relationship between business license acquisition and SLF
Indonesian government has introduced online application of business license through OSS (Online Single Submission).
Business Permit is required to start any business operation in Indonesia and will be issued after applicant states their commitment to obtain Location Permit, Building Permit and Environmental Permit (if required), which all of these permits can also be applied through the OSS system.
Applicant will receive notification that Business Permit has been activated upon the applicant complete the application of Location Permit, Environmental Permit, Building Permit and obtaining the SLF certificate.
Flow until acquisition of SLF
Upon completing construction and testing, relevant authorities from the Supervision and Control Office and public utilities companies will inspect the fire fighting system, lift, STP, electricity, water, telecommunication and to provide connection.
The construction completion and compliance report will be prepared by individual or company expert appointed by the Owner to certify that the building is construction as per the Building Permit. Once all the above is in order, SLF certificate will be issued certifying that the building is built according to Building Permit and in accordance with its intended function.
| | |
| --- | --- |
| STEP1 | Architect (designer) prepare layout and Architectural plans |
| STEP2 | Permit consultant submits to authorities with construction permit application |
| STEP3 | Authorities inspect the site |
| STEP4 | Commencement of any construction, IMB (Izin Mendirikan Bangunan) |
| STEP5 | Construction Commencement |
| STEP6 | Practical Completion Inspection |
| STEP7 | SLF (Sertifikat Layak Fungsi) |
Points to note when applying for an Indonesian Authority submission
It is important to take note that the permitting process in Indonesia will be done by the Permitting Consultant, which is different from some other ASEAN countries such as Malaysia and Singapore, where submission will be done by the Principle Submitting Person, i.e. the Architect.
The permission schedule needs to be considered with the Client's schedule taking into consideration factors such as type of procurement, e.g. whether Design and Build or Conventional method.
Experienced consultant is also important as they would be able to capture all necessary requirements in the submission drawing and provide good/ presentation to the Authorities. Insufficient information will cause the submission to be rejected and further prolong the approval process.
List of related government offices
Construction – Dinas Cipta Karya
Firefighting – Dinas Penanggulangan Kebakaran dan Penyelamatan Provinsi DKI Jakarta
Environment – Dinas Lingkungan Hidup DKI Jakarta
Water supply – PDAM (Perusahaan Daerah Air Minum)
Electricity – PT PLN (Perusahaan Listrik Negara)
TEL – PT Telkom Indonesia
Sewage treatment – Dinas Cipta Karya
Summary
It is recommended to choose the site of the industrial park as the construction site
It is necessary to obtain a construction permit IMB before the construction starts
SLF required to obtain a business license
Appoint a Permitting Consultant for Authority submission
Be careful from the land selection stage as the schedule for construction permit application and government office application is stipulated for each industrial park
For those who are considering investment in Indonesia
Plus PM Consultant Sdn. Bhd. has experience working on projects in Jakarta, Indonesia and will be able to check on the due process of the permitting procedures by checking and monitoring design for compliance and monitor the submission process to each authorities, as per the sequence.
Plus PM Consultant has also collaborated with experienced local Permitting Consultant, Designers and Project Management companies on projects in Indonesia.
Furthermore, Plus PM being a Japanese company has access to latest information from Japanese business community, chamber of trade & industry and embassy.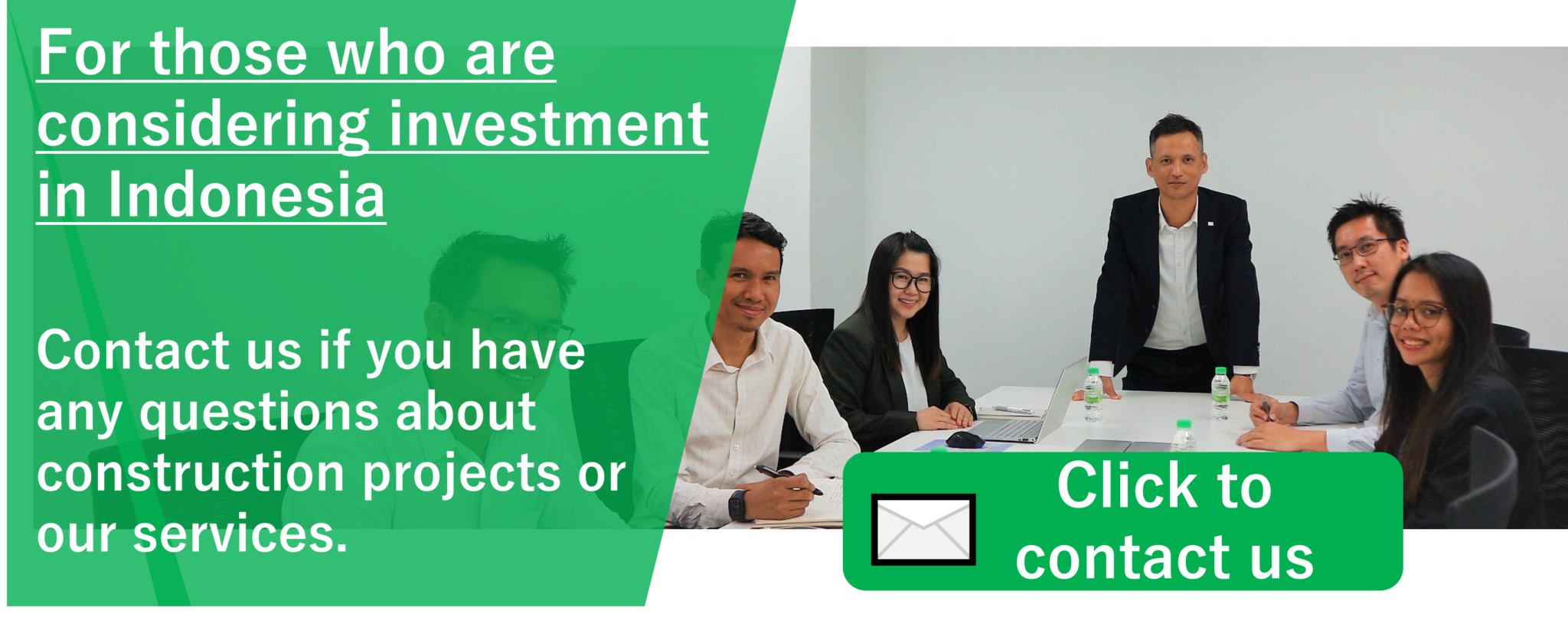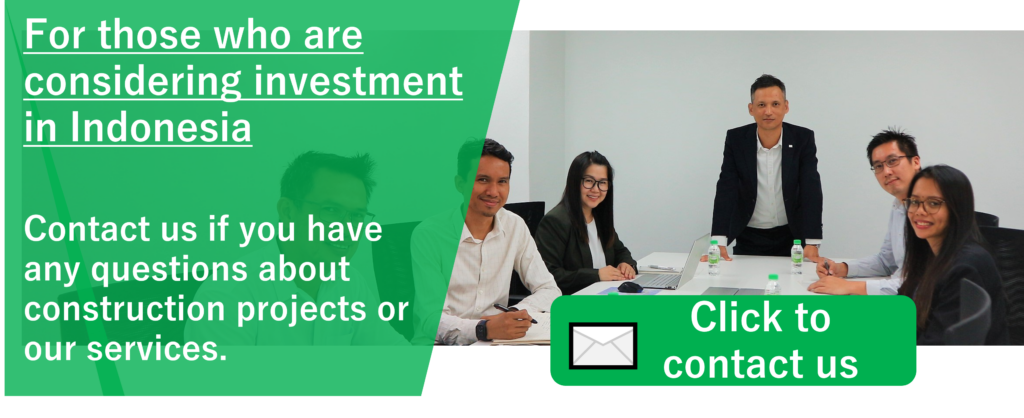 ---
This article is produced by Plus PM Consultant Sdn. Bhd. based on Indonesia's local information obtained through news coverage, as well as the links and references stated below.
We go to great length to ensure that the informational contents on this website and article are as accurate as possible. However, the accuracy of the contents of the article is not always guaranteed. Unauthorized reproduction of these contents is not allowed
≫Citation, references, bibliography
OVERSEAS CONSTRUCTION AND REAL ESTATE MARKET DATABASE国土交通省:海外建設・不動産市場データベースサイト
INDONESIA INVESTMENT COORDINATING BOARDインドネシア投資調整庁(BKPM)